Press Release
Global Gamers Alert: The ToastPunk Stacks Worldwide Challenge Is On! Stand a Chance to Win a Massive Prize Pool!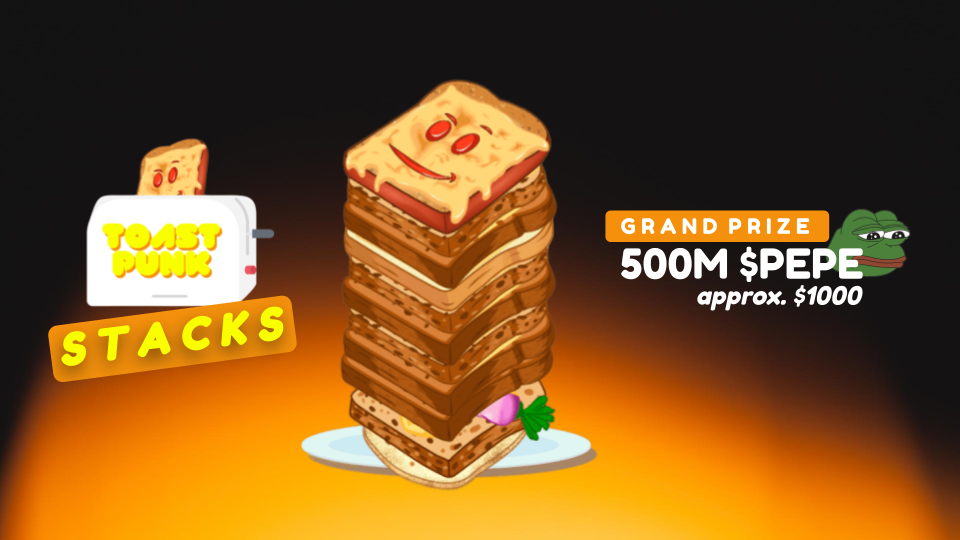 Join the Ultimate Stack-Up Challenge and Strike It Rich with a $1,000 Jackpot!
In an electrifying development set to rouse the worldwide gaming community, ToastPunk, the trailblazing web3 brand, has thrown open the gates to an international gaming challenge. The game in question? The wildly popular ToastPunk Stacks. The challenge? Surpass the current high score of 195, set by the brilliant Nigerian engineering student @thy_mty, before the clock strikes midnight (UTC) on August 31, 2023.
And the sweetest part of this challenge? The victor takes home a whopping 500,000,000 $PEPE tokens, approximately equivalent to a solid $1,000! It's all or nothing in this winner-take-all contest!
ToastPunk Stacks is not your average game. Players have the engaging task of dragging toast slices from a toaster, then stacking them as high as possible on a white plate. Each successful stack nets you a point, while certain special toasts can score you double the points!
Entry to the contest is as simple as can be: free-to-play, no downloads, no sign-ups, and unlimited tries. All you need is a mobile or desktop device. Visit games.toastpunk.com, take aim at that high score, and don't forget to take a screenshot of your entire screen (including the QR code) as proof of your record-breaking feat.
Having scaled the dizzying heights of a high score, celebrate your achievement on Twitter using the hashtag #ToastPunkStacks. Keep a tab on your competitors by following @toastpunk. The aim is clear: shatter the high score of 195. And remember, with unlimited tries, your opportunity to claim victory is never out of reach!
In case of a tie for the top spot, the mega prize will be shared equally among the winners. The triumphant gamer(s) will be contacted during the first week of September, and can opt to receive their winnings in either cash or crypto.
It's not just about the current contest; ToastPunk has a rich history of rewarding players. To date, we've distributed hundreds of thousands of dollars worth of cash, $ETH & $PEPE to past winners. The game has seen over a million game sessions just in July, with one weekend witnessing more than 70,000 unique players – a testament to the game's thrilling appeal.
ToastPunk is more than a gaming platform; it's a global community championing innovation and the ethos of decentralization. We operate as a Decentralized Autonomous Organization (DAO), powered by the collective decision-making of our token holders. With prominent partnerships like Binance, OKX, Neymar Jnr., and the Alpine F1 racing team, we're pioneering the convergence of gaming and crypto.
Matthew Ng, our founder and the driving force behind Racer Club Labs, is fervently committed to making it the EA Sports of Web3. "Our aim is to leverage the global appeal of gaming to propel crypto into mainstream usage," Ng declares.
Become part of this exciting revolution by purchasing Shards, a revolutionary decentralized way to own your own Unreal Engine racing game during the presale, following us on Twitter @RacerClubLabs, and joining the vibrant ToastPunk Discord community at https://discord.gg/toastpunkworld.
Gamers, the gauntlet has been thrown. Are you ready to stack, tweet, and win? The quest for the world's best gamer is on!
For media inquiries, please contact:
ToastPunk Team
[email protected]
Twitter: @toastpunk
Website: toastpunk.com
CO: Australia