Crypto News
VeVe Debuts Digital Collection from Award-Winning Artist Nathan Sawaya in collaboration with ElmonX
London, United Kingdom, August 17th, 2023, ElmonX, has once again caught the attention of everyone following the NFT Sector with the news of their impending release of the spectacular Nathan Sawaya in collaboration with VeVe.
Digital collectibles platform VeVe announced an exclusive partnership to release three exclusive drops by famed artist Nathan Sawaya licensed through ElmonX, a platform that creates licensed contemporary, modern & impressionist NFT Art, next-gen collectibles and artifacts.
Nathan's first series, dubbed "Transfiguration," refers to the change of form of his work going from physical sculptures to a digital state, where the iconic bricks are not physical pieces, but instead digital voxels. This first series will also be extremely limited, with the three collectibles having only between 450 and 600 editions each.
Below is a brief description of the three upcoming drops:
Red Reaching (Ultra rare – 600 editions)

Original sculpture made from 10,298 bricks
This sculpture depicts the torso of a figure with its arms raised above its head. The figure is made from red LEGO bricks. The sculpture is about metamorphosis and transition. It is unsaid whether the sculpture is rising from the loose bricks surrounding it, or sinking into them. This was the first piece Sawaya sold at his first solo gallery show.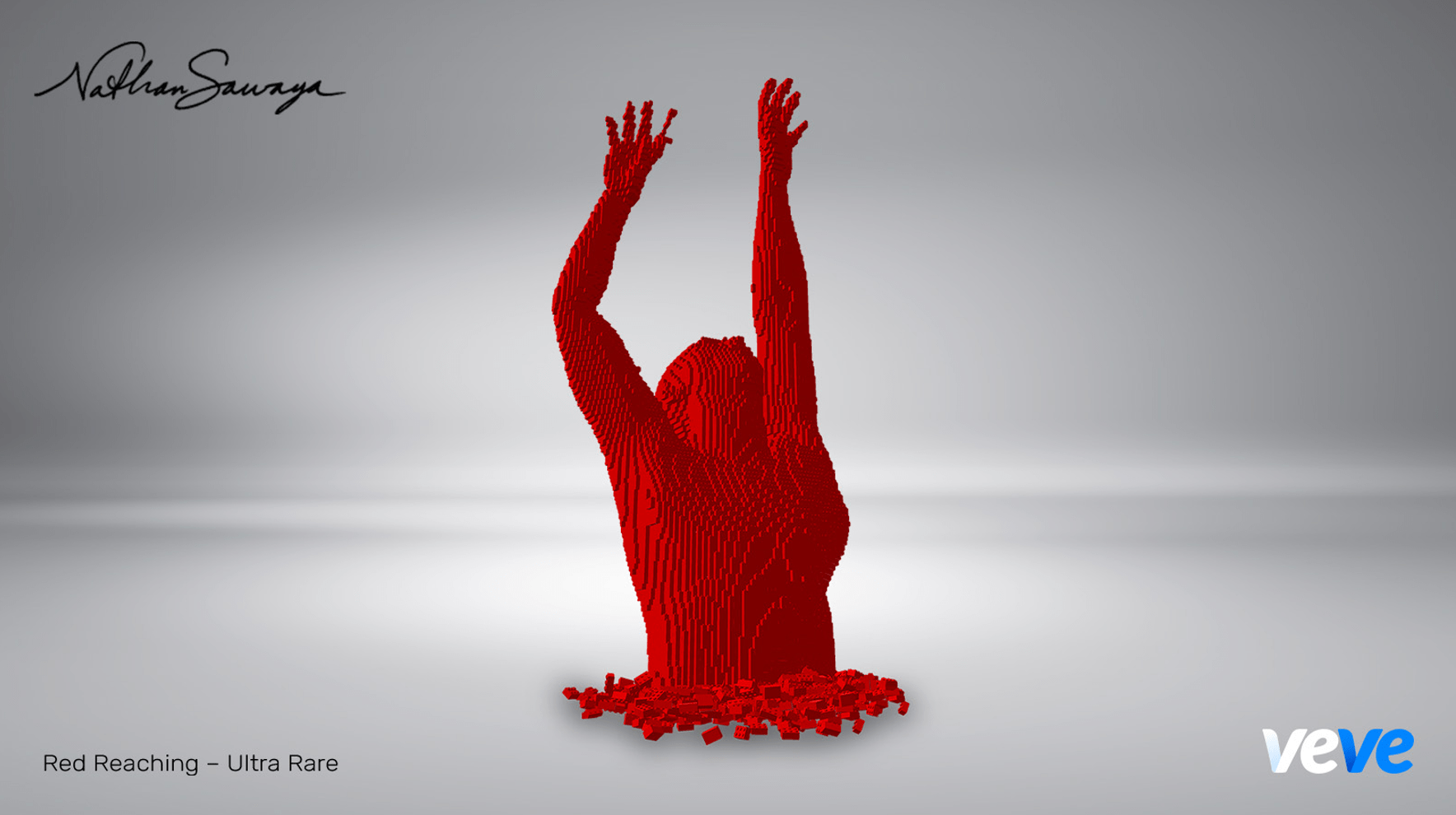 Green Torso (Ultra rare – 600 editions)

Original sculpture made from 8,990 bricks.
This sculpture depicts the torso of a figure in green LEGO bricks. The figure is holding its own head separate from its own neck. It plays with the idea that much like the LEGO elements, the head could simply just snap on or off. It is unclear whether the head is being removed or put into place.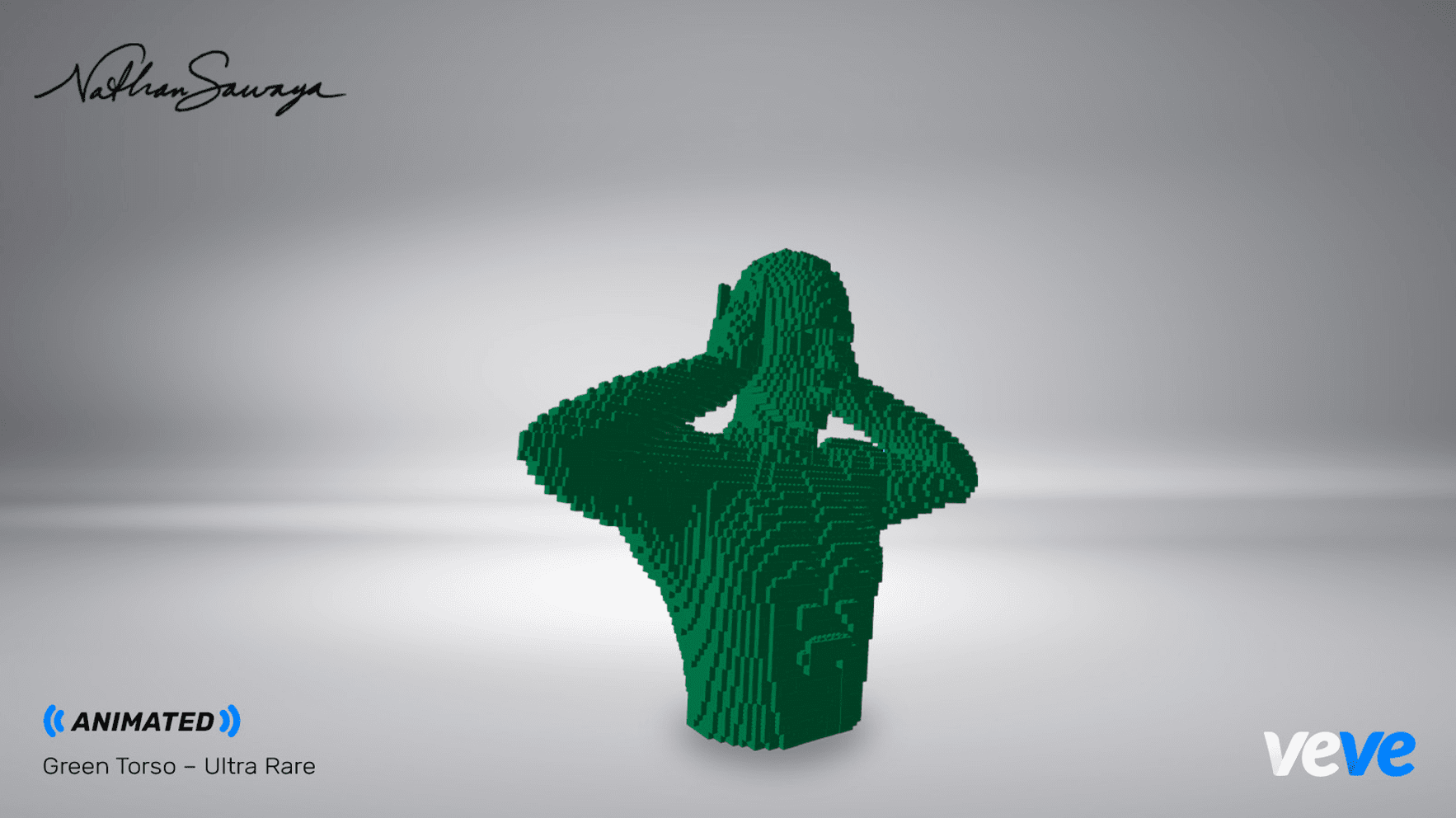 The Writer (Secret rare – 450 editions)

Original sculpture made from 3,120 bricks.
This sculpture depicts a figure in black LEGO bricks holding a larger than life yellow pencil. The figure is saying to the viewer "Let your big ideas flow. When you let your creativity loose, be it in writing, art, music or whatever, your ideas take on a life of their own. So take those big ideas and set them free."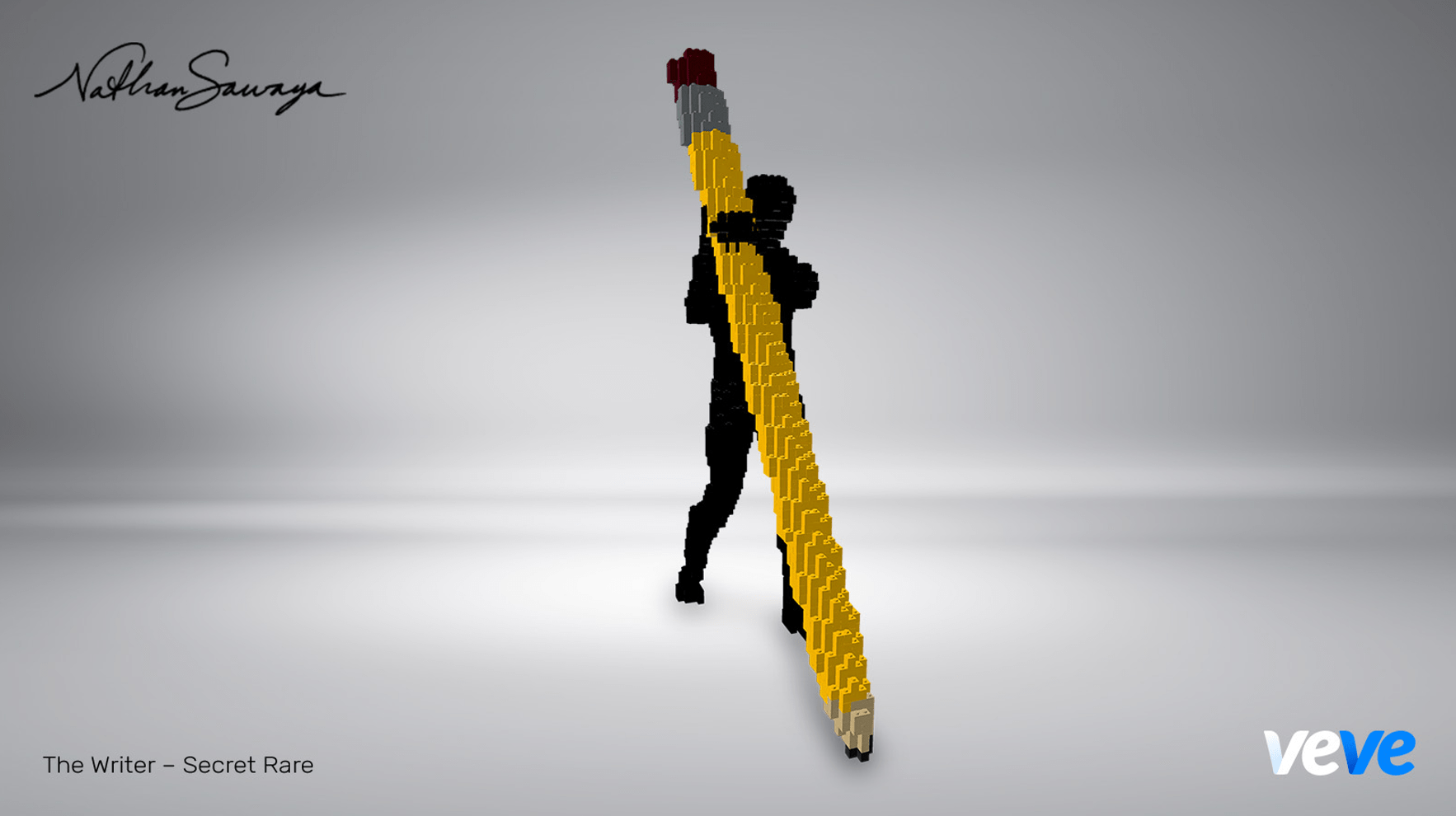 Collectors can purchase these officially licensed digital collectibles on Saturday, Aug. 19 at 8 a.m. PT for $50 (50 In-App Gems) exclusively through VeVe, available to download on the App Store and Google Play, or through the VeVe Web App.
About ElmonX:
ElmonX, previously known as Vtail, specializes in the creation of licensed NFT (non-fungible token) art. Their team of skilled artists and designers create pieces that are not only visually stunning, but also technologically advanced. By utilizing blockchain technology, ElmonX is able to offer next-generation collectibles and artifacts that are aesthetically pleasing and verified through a unique and transparent way for art collectors to invest in and showcase their collections.
The company's focus on art, next-gen collectibles and artifacts reflects their dedication to staying at the forefront of the art world and their commitment to pushing boundaries and breaking new ground. ElmonX's NFT art represents a new era in art collecting. As blockchain technology continues to gain traction, the demand for digital assets and collectibles is on the rise. By creating licensed NFT art, ElmonX offers collectors a new way to appreciate and showcase their love of art. Whether you're a seasoned art collector or a newcomer to the world of NFTs, ElmonX's pieces are sure to captivate and inspire.
ElmonX has previously announced an agreement with VeVe, the digital collectibles platform, to offer the iconic British artist Patrick Hughes' "Reverspective" works as NFTs on the VeVe platform. The collaboration offered collectors a unique opportunity to own Hughes' art in a new digital format. The agreement with VeVe reflects ElmonX's commitment to expanding the accessibility and reach of NFT art, while also promoting established artists to a wider audience. Through this collaboration, ElmonX hoped to showcase the potential of NFTs as a new frontier for art collecting, and to demonstrate the value of investing in digital art.