Crypto News
Heroes Of Arcan: Building The World's First Carbon Neutral Play-To-Earn Fantasy Strategy Game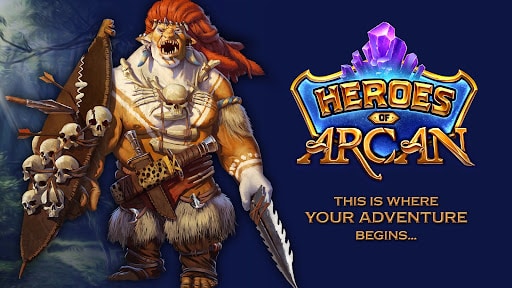 Tallinn, Estonia – Play-to-earn games are popular, but raise significant ethical concerns. Heroes of Arcan is building the world's first carbon-neutral heroic fantasy play-to-earn game, powdered by WAX blockchain technology. 
Play-to-earn games are rapidly becoming one of the most popular applications of NFT and blockchain technology — but the environmental impact of NFT-based play-to-earn games raises serious ethical questions.
The contemporary blockchain networks that power many of the most popular play-to-earn games operate with highly inefficient consensus models that not only prevent new players from getting started due to high minting and transaction fees, but also incur a significant carbon cost.
Heroes of Arcan is a new play-to-earn game under active development that integrates WAX blockchain technology in order to create the world's first completely carbon-neutral, environmentally ethical epic fantasy strategy game on the blockchain.
Heroes of Arcan Promises Strategic Epic Fantasy Gameplay
Heroes of Arcan offers strategic heroic fantasy gameplay in which players conquer territory, collect resources, and collect Heroes that offer unique passive bonuses. Rather than focus on the "earn" element of play-to-earn, Heroes of Arcan focuses on "play" — the design and gameplay offered by Heroes of Arcan focuses on creating alliances between players, developing and executing strategic plans of expansion, quests, exploration, and free trade.
Heroes of Arcan introduces players to a resource-rich fantasy world in which three ancestral factions — the Wiser, Conquerers, and Preachers — compete for dominance. Each faction within the Heroes of Arcan universe originates from separate continents. Relationships between factions consist of continuous alliances, betrayals, and power struggles, which are reflected in real-world player Discord communities.
Heroes of Arcan introduces magic within the lore and gameplay of the game as highly destructive weapon of mutually-assured destruction. Excessive use of magic in the world of Heroes of Arcan catalyzed a world-threatening disaster that forced the primary factions of Arcan to collectivize in response, establishing a period of extended peace.
Players are introduced to the world of Arcan as new political schisms between factions create new conflicts, offering a lore-rich narrative that drives the evolution of the world and player economy of Arcan.
Overcoming The Ethical Issues of Play-to-Earn Games
The environmental impact of play-to-earn games is primarily caused by the very design elements that empower play-to-earn game enthusiasts. Play-to-earn games allow players to generate real-world value from their efforts in-game through the application of blockchain smart contracts and NFT trading. While this provides players with a way to trade in-game success for real-world currency, it also requires transactions to be written to a blockchain.
Many of the blockchain networks used to execute transactions for play-to-earn games are highly energy inefficient. The Ethereum blockchain, for example, currently uses a Proof of Work consensus method that incurs an enormous carbon cost for each individual transaction.
Every interaction involving an NFT generated in a play-to-earn game on the Ethereum network, such as the sale of an in-game NFT or the trade of in-game currencies requires a transaction that incurs, on average, a carbon cost of 33.4kg of CO2. A single NFT sale can incur a carbon cost of 48kg.
Heroes of Arcan, however, uses the WAX blockchain to facilitate the creation and trade of in-game currencies and NFTs. WAX boasts zero transaction fees, over 400,000 daily users, up to 300 transactions per second, and an alliance of verified games through WAX gaming.
WAX, however, is completely carbon neutral — the WAX network uses a Proof of Stake algorithm that ensures all transactions are offset by carbon offset NFTs, rendering Heroes of Arcan one of the first completely carbon neutral and environmentally friendly play-to-earn games.
WAX Blockchain Technology Makes NFT Gameplay Accessible 
Carbon offset transactions aren't the only benefit of integrating WAX blockchain technology into the Heroes of Arcan tech stack. WAX offers far more efficient and lower-cost transactions when compared to contemporary blockchains, lowering the price of participating in play-to-earn games and opening the doors to mainstream epic fantasy strategy audiences.
The transaction throughput of a blockchain network used to facilitate transactions for a play-to-earn game can have a significant impact on the accessibility of a game to new players. Games based on the Ethereum network, for example, can incur significant costs if players must mint NFTs as part of the gameplay loop.
Minting an NFT on the Ethereum blockchain can cost as much as $900 USD during peak periods — creating gameplay elements on popular Ethereum-based play-to-earn games such as Axie Infinity can cost players a minimum of $80 USD just to begin playing, preventing many players from getting involved.
The integration of WAX blockchain technology into the Heroes of Arcan tech stack allows players to start playing for a fraction of the price of games based on the Ethereum network — minting an NFT on the WAX blockchain incurs a cost of just a few cents.
By eliminating the financial obstacles that prevent new players from entering the play-to-earn sector and offering a robust, narrative-driven heroic fantasy strategy experience, Heroes of Arcan is positioned to capture both cryptocurrency enthusiast and mainstream gaming industry attention.
The Heroes of Arcan Token Sale & Roadmap
Heroes of Arcan, spearheaded by founder Thomas Gio, is currently under development, with the launch of the first playable version of the game scheduled in the roadmap for Q3 2022. Following a successful private token sale round, a public token sale and NFT sale event are set to go live in Q2 2022, which will offer players the ability to purchase ARCAN — the native token of Heroes of Arcan.
Heroes of Arcan's Token sale will see 12.5 percent of the total of 100 million ARCAN tokens distributed to supporters of the Heroes of Arcan project and cryptocurrency enthusiasts, with a further 24 percent of the total issuance reserved in a community wallet that will be used to reward players that stake ARCAN in the Heroes of Arcan DAO. More information on the development and progress of Heroes of Arcan, as well as updates on the Heroes of Arcan token sale, can be found via the following links:
Social Links
Linktr.ee: https://linktr.ee/heroesofarcan
Media Contact
Brand: Heroes Of Arcan
Contact: Thomas Giovannangeli, CEO
E-mail: [email protected]
Website: https://heroesofarcan.io