Press Release
Gumi Cryptos Capital Leads Amulet's Seed Round Of $6 Million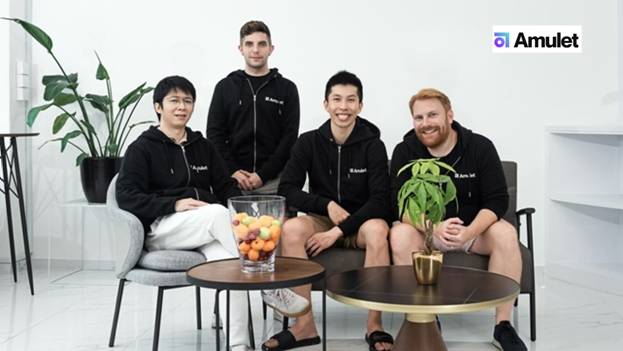 Web3 has become a keyword these days that refers to a better and futuristic internet experience. It has created quite a buzz within the crypto sector and caused several projects to actively support it by investing in it. But up until now, there was no native insurance protocol for Solana. That is where Amulet comes to the scene.
The Problem
According to the team behind Amulet, this rust-based insurance protocol is starting to provide insurance for smart contract vulnerabilities before moving on to GameFi, Metaverse, and NFT. As emerging technologies within the crypto space keep spreading far and wide, there is an inevitable risk for the new users of such technologies. In a blink of an eye, one can lose either their assets or even their identity without GameFi, NFTs, and even Metaverse.
The world of crypto has become quite treacherous in the past few years due to the rise of frauds, hacks, and exploits. In 2021 alone, over $10 billion was lost in various scams that occurred all over the crypto market globally. This is why a majority of institutional investors have refrained from coming out as a supporter of several innovative crypto projects. The cases of crypto exploits have been rising due to a general lack of sustainable design and coverage gaps that resulted in the undervaluation of insurance in the DeFi space.
Amulet as the Solution
Whenever an amount is lost due to theft, only an insignificant part of it is recovered. All of this raises an important question regarding the safety of people's investments in the emerging technologies within the crypto industry. Investors are sure to back out as these questions remain unanswered and the situation remains unchanged. But the Amulet team has a plan to set things right and make the crypto space safe enough to participate in once again.
This project intends to change the situation and make it safer for new participants but that is not all. The Amulet project is also aiming to offer competitive, yet practical, insurance coverage to all kinds of DeFi users. Particularly, those who have been waiting patiently for so long to have a Solana-backed rust-based insurance protocol. Since Amulet uses Solana's proof-of-stake network, it can easily provide stable returns and insurance services via Protocol Controlled Underwriting and Future Yield Backed Claim mechanisms.
The project lead of Amulet is Rupert Barksfield who has a total of 15 years of experience in the technology industry with an interest in DeFi, FinTech, MedTech, etc. Bakersfield understands the need for improved insurance solutions which encourages new participants to safeguard their investment in emerging technologies like Web3. Barksfield and his team are the ones handling the launch of the Amulet rust-based protocol.
$6 Million in Seed Funding
Amulet recently wrapped its seed round successfully with the participation of dozens of renowned investors. This finance round ended up raising a total of $6 million and was led by Gumi Cryptos Capital. Other participating VC firms included names like Solana Ventures, Republic Capital, Signum, Longhash, DeFiance Capital, Solar Ecofund, Cobo Wallet, Animoca Brands, Mirana Ventures, Daedalus Angels, CMT Digital, Re7 Capital, Matrixport Ventures, a41 Ventures, UOB and Signum Ventures with the inclusion of ecosystem partners like Serum and Acala Network.
Amulet's team is working round the clock to launch its first protocol that one day plans to insure GameFi & NFT assets including Metaverse life and Property insurance as well. According to Barksfield, the upcoming 5 years would be vital for this project. As of now the long-term goal of Amulet is to lead the way as a rust-based insurance protocol to protect over $35 billion worth of TVL in rust-based ecosystems.
About Amulet
Amulet is the world's first-ever DeFi insurance protocol made for rust-based ecosystems. The goal of Amulet is to bring simplicity and reliability in the form of insurance for Web3 participants. This is a unique solution that is being built on Solana through the support of Solana Ventures. It is being developed by the one and only MTR Labs. MTR Labs is known as the capable team behind InsurAce.io. The idea is to build Amulet a completely different business entity from InsurAce.io. To know more about this exciting and one-of-a-kind project, visit http://www.amulet.org/