Press Release
Racer Club Labs Unveils Epic Airdrop: Limited Edition OG Fan Passes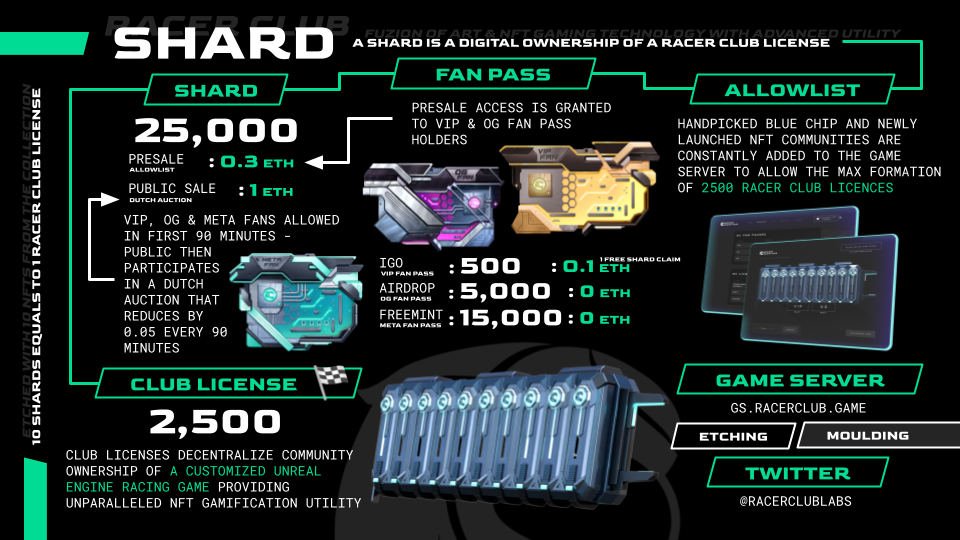 Melbourne, Australia – Racer Club Labs, the creator of 2023's most talked about blockchain racing game, is thrilled to announce an extraordinary airdrop event for the highly sought-after Racer Club OG Fan Passes. This exclusive opportunity allows NFT enthusiasts and gaming aficionados to secure their very own OG Fan Pass, unlocking a world of exclusive benefits and privileges within the adrenaline-fueled realm of Racer Club.
The OG Fan Passes, limited to a total quantity of 5,000, are the pinnacle of collectible NFTs, destined to be cherished by the elite players of Racer Club. Out of this limited supply, 4,000 OG Fan Passes will be distributed to lucky winners via the premint link provided below. The remaining 1,000 OG Fan Passes will be reserved for high-end blue-chip collaborations, ensuring that they find their way into the hands of esteemed partners such as Azuki, MAYC, Doodles, Cool Cats, and more.
Now is your chance to join this exclusive ecosystem and immerse yourself in a racing experience like no other. Register for FREE now to participate in the raffle and seize the opportunity to be one of the lucky winners of an OG Fan Pass. The registration period is currently open, and the highly anticipated raffle will take place on the 15th of July. Winners will receive their OG Fan Passes in the exhilarating airdrop event, scheduled for the 16th of July.
As an esteemed holder of the OG Fan Pass, you gain access to a multitude of exciting benefits and opportunities. Here's why you don't want to miss out:
Pre-Sale Access: The OG Fan Pass grants you exclusive access to the pre-sale of Shards, the ultimate gaming asset in Racer Club. While the public dutch auction for Shards starts at 1 ETH per Shard, as an OG Fan Pass holder, you can participate in the pre-sale and secure Shards at the discounted price of 0.3 ETH per Shard. Don't miss this chance to build your club earlier and gain a competitive edge.
https://www.youtube.com/watch?v=73fgZl59vrc
Thrive with Shards: Shards are the building blocks of Racer Club, representing ownership of a unique club license. With Shards, you have the power to create and customize your own Racer Club, unlocking unparalleled gaming experiences. Build your legacy, connect with fellow Shard owners, and shape the future of the Racer Club metaverse.
Matthew Ng, CEO of Racer Club Labs, expresses his excitement for this monumental airdrop event: "The OG Fan Passes are a gateway to an unparalleled gaming experience in Racer Club. They unlock exclusive benefits, provide access to exciting pre-sale opportunities, and connect you with a passionate community of players. Don't miss this chance to be part of the racing revolution!"
Hurry and sign up now for FREE at https://www.premint.xyz/og-fan-pass/ to secure your spot in the raffle as we draw closer to this thrilling event. Remember, an OG Fan Pass not only opens doors to exclusive privileges but also grants you pre-sale access to Shards at a significantly discounted price. Don't let this opportunity race by!
Stay in the loop with the latest updates and exciting announcements by following us on Twitter (@RacerClubLabs).
For media inquiries, please contact:
Racer Club Labs PR Team
Email: [email protected]
About Racer Club Labs:
Racer Club Labs stands at the forefront of blockchain gaming, dedicated to crafting immersive and adrenaline-pumping gaming experiences. By harnessing the power of blockchain technology and NFTs, Racer Club Labs is revolutionizing the world of racing games. Embrace the future of gaming today by joining the club!