Press Release
HotsCoin Exchange: Revolutionary DeFi trading features officially launched, spearheading the wave of digital financial innovation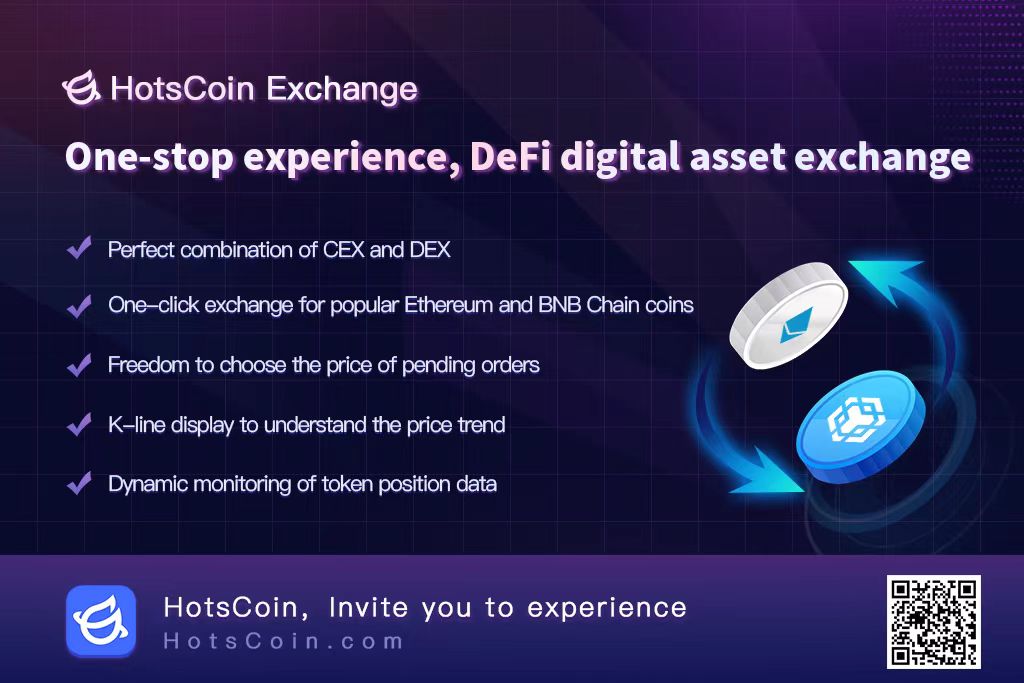 HotsCoin Exchange ceaselessly pioneers, unveiling its globally unprecedented DeFi trading features, bringing transformative innovations to the digital asset trading market. As an emerging global regulatory-compliant quantitative trading platform, HotsCoin Exchange continually harnesses cutting-edge technology to offer its users a more secure and efficient trading milieu. Currently, HotsCoin Exchange has successfully managed over 60 million US dollars in trading assets, collaborating with the world's elite enterprises in the crypto realm, including leading mining pools and premier exchanges, ensuring transaction security and stability.
Tracing back to its inception in 2019, HotsCoin Exchange, a regulatory-compliant platform holding formal licenses in both the United States and Canada, offers its users a plethora of trading options, encompassing spot trading, futures contracts, and quantitative trading. While ensuring the safety of user funds, HotsCoin Exchange proactively fosters collaborations with top-tier enterprises, aiming to bestow an unparalleled trading experience upon its clientele.
Yet, HotsCoin Exchange did not rest on its laurels. Driven by an unyielding pursuit of innovation, the exchange once again set industry trends by launching the world's first DeFi trading feature. DeFi (Decentralized Finance) has burgeoned into a hot topic in the realm of digital finance, and by integrating DeFi into its platform, HotsCoin Exchange has ignited widespread attention in the industry.
DeFi features boast remarkable attributes:
Intelligent Gas Fee Management: The platform smartly optimizes transaction pathways, matching you with the best on-chain quotes, thereby minimizing your Gas expenses.
Multi-chain Exchange Convenience: Effortlessly facilitate the purchase and exchange of popular assets across different public chains.
On-Chain Trade Order Delegation: DeFi capabilities allow users to make on-chain trades via order delegation, ensuring a more efficient and streamlined trading experience and efficiency.
Secure Liquidity Monitoring: On-chain asset liquidity safety checks ensure that your trading assets are shielded from the implications of insufficient liquidity.
HotsCoin Exchange's DeFi feature seamlessly amalgamates CEX (Centralized Exchanges) with DEX (Decentralized Exchanges), bestowing users with a more comprehensive and streamlined digital asset trading experience. As an industry trailblazer, HotsCoin Exchange is not merely devoted to catering to users' trading demands but is also committed to pioneering the wave of digital financial innovation, paving the way for the future of Cryptocurrency.
In summary, the official launch of HotsCoin Exchange's DeFi trading feature heralds a groundbreaking transformation in the digital finance industry. Whether a novice or a seasoned trader, HotsCoin Exchange emerges as the quintessential destination for exploring the digital finance realm. Opt for HotsCoin Exchange, and embark on the odyssey into the future of digital finance.
Official Website: hotscoin.co