Press Release
The Great Wave off Kanagawa Licensed NFTs To Release In 3D and Augmented Reality on ElmonX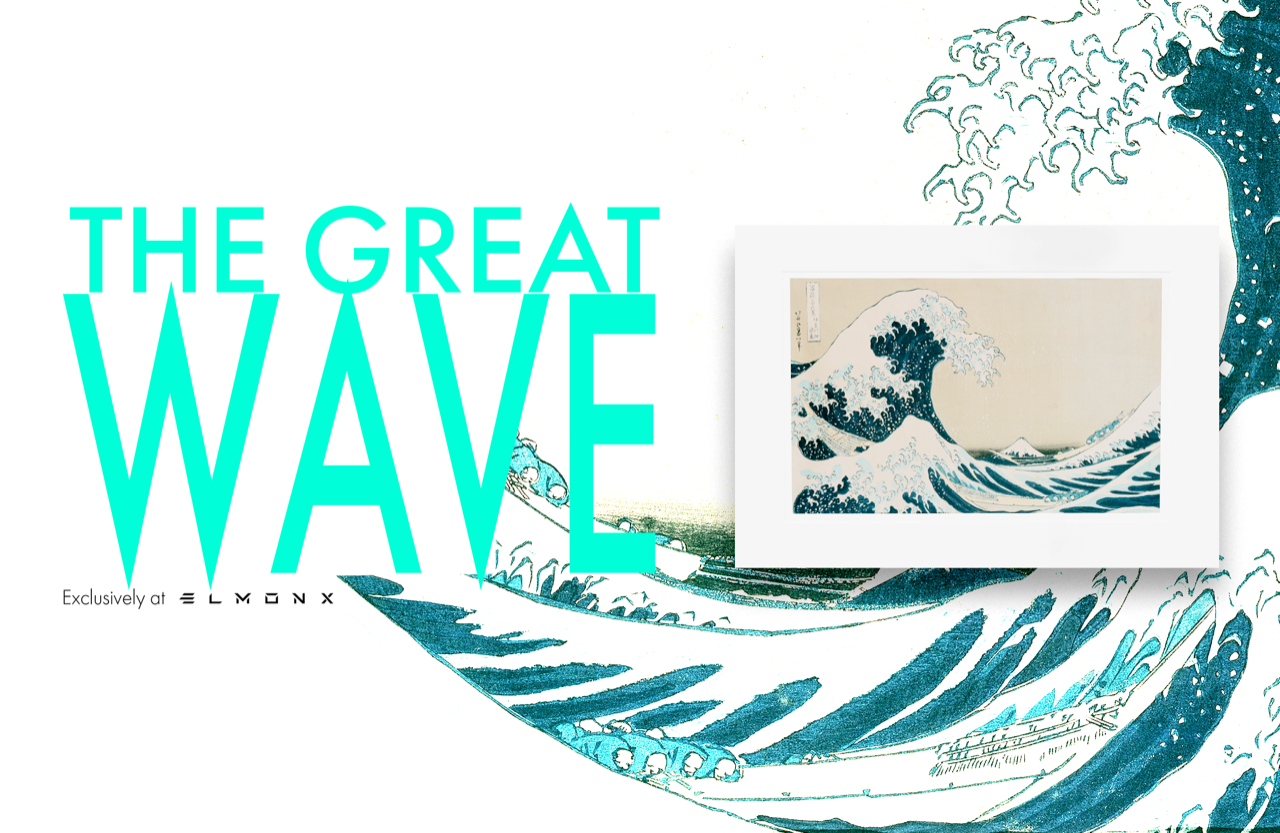 A symbol of Japanese art: The Great Wave releases as an NFT 8th June on ElmonX.
London, United Kingdom, June 7, 2023, Prepare to be enthralled as ElmonX unveils its highly anticipated NFT collection, "The Great Wave: by the legendary Hokusai Katsushika. This magnificent collection is set to captivate audiences and ignite a wave of excitement. Make sure to mark your calendars for the grand launch on Thursday, 8th June at 9AM PT, exclusively at ElmonXplus.com.
"The Great Wave off Kanagawa" is a powerful and iconic woodblock print from Hokusai's series "Thirty-Six Views of Mount Fuji." It depicts a towering tsunami wave overshadowing three boats, while Mount Fuji stands in the background.
The composition emphasizes the insignificance of humans compared to the might of nature. Hokusai's masterful use of colour, particularly the vibrant indigo of the wave, adds depth and intensity. The intricate details of the waves and the delicate depiction of Mount Fuji showcase Hokusai's technical skill. This masterpiece captures the harmony and contrasts of the natural world, leaving a lasting impact and becoming a symbol of Japanese art.
Their notable previous NFT releases include, the: Mona Lisa by Leonardo da Vinci, The Starry Night by Vincent van Gogh and The Thinker by Auguste Rodin
The collectibles part of the The Great Wave collection include:
Hokusai Katsushika | ElmonX The Great Wave off Kanagawa, from the series '36 Views of Mt. Fuji' Original (336 editions)
Buyers can pay with credit card at elmonxplus.com
About Hokusai Katsushika:
Katsushika Hokusai (1760–1849) was a renowned Japanese ukiyo-e artist known for his influential woodblock prints, including the iconic "Thirty-Six Views of Mount Fuji" series. His art had a significant impact on Western art, particularly the Impressionist movement in Europe.
Hokusai, born in Edo (now Tokyo), started as a woodblock engraver apprentice. He excelled in various genres, but his landscape prints, highlighting nature's beauty and featuring Mount Fuji, gained him the most acclaim. "The Great Wave off Kanagawa," one of Hokusai's famous prints, showcases his mastery of composition, line work, and use of color. His bold brushstrokes, attention to detail, and intricate depictions of natural elements defined his artistic style.
Hokusai's prints captivated European artists like Van Gogh and Monet, leaving a lasting impact on the development of modern art. His unique style, focused on capturing nature's ephemeral beauty, continues to inspire artists today. Hokusai created thousands of prints and illustrations, constantly refining his skills and experimenting with new techniques. His dedication to his craft and ability to capture nature's essence established him as a highly influential and beloved artist in Japanese art history.
About ElmonX:
ElmonX seamlessly integrates with an unalterable and highly secure distributed database of digital assets. By leveraging decentralised and immutable blockchain systems, ElmonX ensures transparent tracking of product origins and traceability across the entire supply chain. Collectors can utilize augmented reality to visualize and engage with the NFTs, adjusting the scale of the assets to perfectly suit their surroundings.
The ElmonX mobile apps are now available in beta, allowing you to reserve your username and join the waitlist. With a particular emphasis on licensed products, ElmonX aims to enhance the NFT collecting experience, particularly in the realm of art, through various offerings such as digital products, animation, and immersive experiences.
About Bridgeman Images:
ElmonX have partnered with Bridgeman Images to bring The Great Wave into the NFT world using an ultra hi-resolution image, with incredible detailing unseen to the naked eye. Bridgeman are the world's leading specialists in the distribution of art, cultural and historical images, and footage for reproduction. With 50 years' experience providing images from the most prestigious museums, collections, and artists.
ElmonX will plant a tree for every sale made. You can view their virtual forest here: https://ecologi.com/ElmonX
Launch Date: 8th June 2023 9am PT / 5pm UK time – Available at: elmonxplus.com
To stay up to date, follow ElmonX on social media: https://linktr.ee/elmonx
Media Contact:
ElmonX
Attn: Media Relations
London, UK