Press Release
The Funerary Mask of Tutankhamun Licensed NFTs To Release In 3D and Augmented Reality on ElmonX – News Going Viral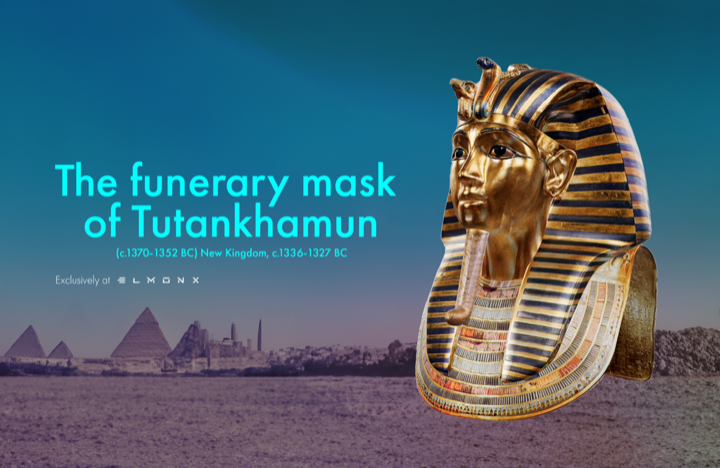 A symbol of Egyptian History: The Funerary Mask of Tutankhamun releases as an NFT soon on ElmonX. 
London, United Kingdom, June 15, 2023, Get ready to be mesmerized as ElmonX introduces its highly anticipated NFT collection, "ElmonX: The Funerary Mask of Tutankhamun (c. 1370–1352 BC), New Kingdom, c1336–1327 BC." Be prepared to be transported to the enchanting world of Tutankhamun as this remarkable collection captivates viewers, immersing them in a wave of awe and excitement inspired by the legendary pharaoh. Accessible exclusively through a whitelist.
About The Funerary Mask of Tutankhamun:
The Funerary Mask of Tutankhamun is a mesmerising and awe-inspiring artifact that represents the grandeur and opulence of ancient Egypt. Crafted during the New Kingdom, between 1370 and 1352 BC, this magnificent mask adorned the face of the young Pharaoh Tutankhamun in his eternal rest. Made from pure gold, the mask showcases the exceptional craftsmanship of that era, with intricate details and vibrant semi-precious stones, including lapis lazuli, quartz, and obsidian.
The mask radiates power and mystique, with meticulously carved features capturing the Pharaoh's divine lineage. Adorned with symbols of protection and divine authority, such as the cobra and vulture headdress, it reflects the Pharaoh's connection to the gods. This priceless gem, excavated in 1925 by Howard Carter from Tutankhamun's tomb, stands as a testament to the enduring legacy of ancient Egypt and the preservation of pharaohs' immortality through art and splendour.
The collectibles part of the "The Funerary Mask of Tutankhamun" collection include:
ElmonX The funerary mask of Tutankhamun (c.1370–1352 BC) New Kingdom, c1336–1327 BC Original (330 editions).
Buyers can pay with credit card at elmonxplus.com
ElmonX Utility:
By possessing the ElmonX Funerary Mask of Tutankhamun, owners will be granted exclusive access to upcoming ElmonX releases of at least one Egyptian Artifact and some other secret surprises. This unique ownership privilege ensures that they will have the opportunity to acquire future artifacts.
Don't miss out on this extraordinary opportunity to expand one's collection and delve deeper into
the world of ElmonX Egyptian artifacts.
How to Get a Whitelist Spot:
Exclusive NFT collection participation is limited to individuals on the whitelist. If collectors wish to be considered for a whitelist spot, kindly review the following criteria. However, please note that the selection process is not restricted to these specific points:
1. Join the ElmonX community: Become an active member of the ElmonX community by participating in discussions, events, and channels related to the project.
2. Engage with social media: Follow ElmonX on social media platforms such as Twitter, Instagram, or Discord, and actively engage with the project's posts, sharing thoughts and ideas. Make sure to use #ElmonXTut (ElmonX will monitor this).
3. Spread the word: Help promote ElmonX by sharing information about the project with one's network. This can include sharing project updates, inviting others to join the community, or discussing ElmonX in relevant online communities.
4. Create content: Contribute to the project by creating content related to ElmonX. This can include writing blog posts, creating videos, designing artwork, or organising events that showcase the project.
5. Provide feedback: Offer constructive feedback and suggestions for improvement to the ElmonX team. This can be done through community channels.
6. Be an ambassador: Act as an ambassador for ElmonX by representing the project positively and helping newcomers understand its value.
7. Support fellow community members: Show support and encouragement to other members of the ElmonX community. This can be done by providing guidance, answering questions, or sharing your knowledge and experiences.
ElmonX is open to creative concepts and ways to participate, points 1 to 7 are suggestions not criteria.
About ElmonX:
ElmonX seamlessly integrates with an unalterable and highly secure distributed database of digital assets. By leveraging decentralised and immutable blockchain systems, ElmonX ensures transparent tracking of product origins and traceability across the entire supply chain. Collectors can utilize augmented reality to visualize and engage with the NFTs, adjusting the scale of the assets to perfectly suit their surroundings.
The ElmonX mobile apps are now available in beta, allowing collectors to reserve their username and join the waitlist. With a particular emphasis on licensed products, ElmonX aims to enhance the NFT collecting experience, particularly in the realm of art, through various offerings such as digital products, animation, and immersive experiences.
About Bridgeman Images:
ElmonX have partnered with Bridgeman Images to bring "The Funerary Mask of Tutankhamun" into the NFT world using an ultra hi-resolution image with incredible detailing unseen to the naked eye. Bridgeman is the world's leading specialists in the distribution of art, cultural and historical images, and footage for reproduction. With 50 years' experience providing images from the most prestigious museums, collections, and artists.
ElmonX will plant a tree for every sale made. They can be viewed their virtual forest here: https://ecologi.com/ElmonX
Launch Date: Whitelist Allocation: Sun, 11th June 9AM PT — Sun, 9th July 9AM PT
To stay up to date, follow ElmonX on social media: https://linktr.ee/elmonx
Media Contact:
ElmonX
Attn: Media Relations
London, UK