Press Release
Dominator Domains, a Web3 innovative platform where users can register domains in 3 different blockchains and 10 different domain extensions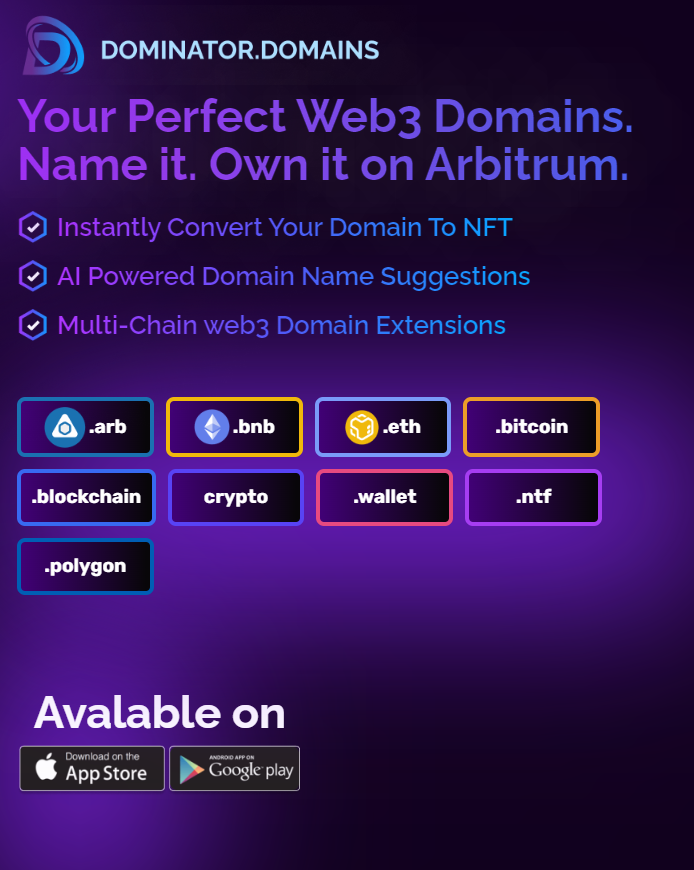 Dominator Domains provide real yield in ETH, no renewal fees and more!
Own a piece of the web 3 infrastructure – be a part of the next generation domain extensions and benefit from its growth.
Invest in an asset that has a fixed token supply – preventing inflation and preserving value.
Earn passive income from real yield such as ether – making your investment work for you even when you're not actively trading it.
Enjoy high liquidity and easily resell your NFTs to anyone, anytime, at any price
Are you looking for a new way to invest?
Look no further than Web 3 Dominator Domains with domain extension and NFTs. This innovative platform offers a wide range of advantages, including ETH rewards, no renewal fees and more.
With 750 plus wallet integration and passive income streams, you can unlock the full potential of this cutting-edge technology.
Dominator NFTs are the perfect way to get started. As the first decentralized domain marketplace, these tokens offer a secure way to invest in Web3 dominant domains.
Starting at just $5, they provide easy access to a wide range of features such as domain security and decentralized websites. Plus, they can be easily resold to anyone without any additional fees or costs.
At Dominator, we're committed to providing our users with an exceptional experience.
That's why we have efficient tokenomics with allocations for public sale as 250 million, liquidity is 125 million, marketing 50 million and floating liquidity is 25 million that make investing easier than ever before.
Plus, our platform partners include some of the biggest names in crypto such as Binance, Arbiscan , Coinmarketcap, Dextools and Uniswap.
With Dominator NFTs you can also enjoy passive income streams such as fixed token supply rewards for staking on Ethereum or BSC networks; ETH rewards for participating in campaigns; yield farming on Uniswap; Plus there's a live NFT Marketplace where you can buy and sell your domain name NFT instantly with low transaction fees.
Finally there's CoinmarketCap listing that allows you to easily track your investments over time so you always know what's going on with your portfolio. And don't forget about MetaMask and Arbitrum integrations that allow you to securely store your tokens while taking advantage of all the features mentioned above!
Investing in Web3 Dominator Domains has never been easier – or more rewarding! Unlock ETHER rewards and no renewal fees today by visiting Dominator.Domains.