Press Release
CC Swap has Launched, offering a captivating platform for global innovators and transaction participants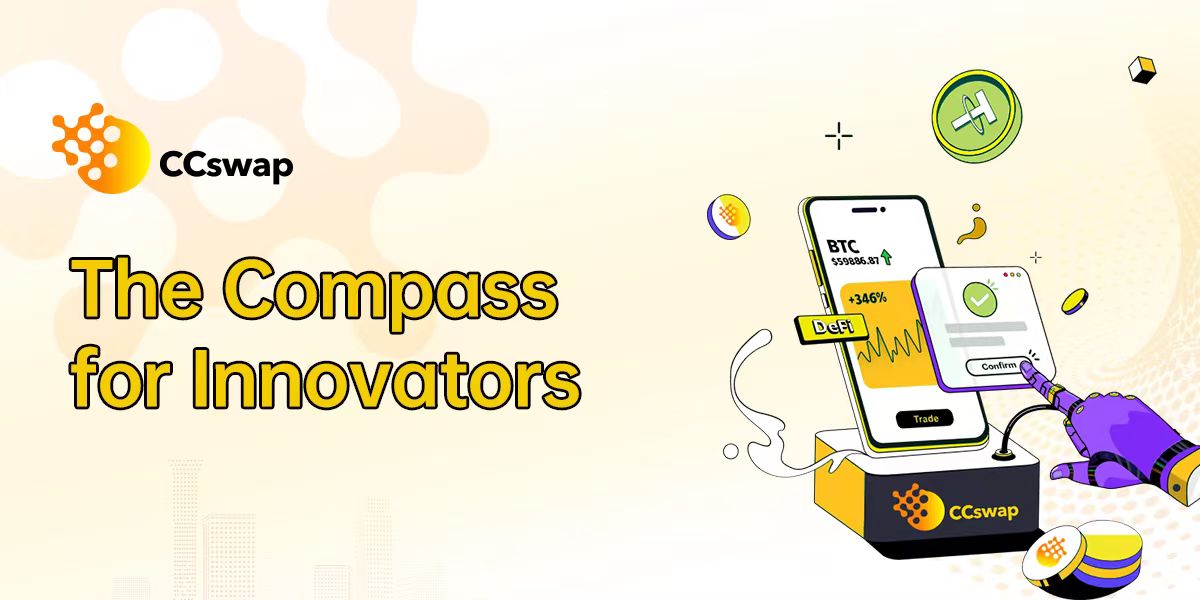 With an unrivaled pace, Blockchain is unfolding, ushering in myriad exhilarating opportunities. Amidst these thrilling times, CC Swap has launched, offering a captivating platform for global innovators and transaction participants. It is more than just a novel Blockchain as a Service (BAAS) trading model; it's a potent tool invigorating innovative potential, empowering entrepreneurs to actualize their dreams.
In the realm of CC Swap, innovation becomes effortless. Through an innovative token issuance mechanism, developers can seamlessly create and distribute their own tokens, liberating them from burdensome regulations and intricate code. This token issuance mechanism, underpinned by a unique "lock-in + liquidity-guided auction" model, ensures fair token distribution, stable price discovery, efficient transaction liquidity, while incentivizing long-term community engagement and liquidity provision.
Innovation, the eternal spark driving human advancement, is vividly unraveling in the grand tapestry of Blockchain. In this era teeming with boundless creativity and infinite possibilities, CC Swap shines as a dazzling North Star, leading innovators on an unprecedented odyssey.
CC Swap is not merely a decentralized exchange with an innovative trading model, it is a bridge connecting global innovators. Be it the customizable token templates, or the low-latency, low-fee, and highly secure trading experience, CC Swap provides an exceptional trading environment for users to let their sparks of innovation freely ignite.
The aspirations of CC Swap do not end here. It is committed to becoming a Blockchain as a Service (BAAS) platform for innovative trading models, providing partners with cost-effective and efficient trading models, fostering exclusive communities and ecosystems, and jointly fostering prosperity and win-win outcomes in the Blockchain realm.
Today, we stand at the threshold of a new era, welcoming the radiant debut of CC Swap. Incubated and established by the American Foundation Coinmarket, it enjoys support and investment from numerous esteemed institutions. Its team is composed of experienced blockchain professionals who possess a deep understanding and practical ability in blockchain technology, token economy, and community operations. Their mission: to offer impeccable service and experiences for users, and contribute their strengths to the prosperity of the blockchain ecosystem.
CC Swap, as a Blockchain as a Service (BAAS) system for innovative trading models, emphasizes not only technological innovation but also nurturing and bolstering the dreams of innovators. Its mission is to aid blockchain entrepreneurs in realizing their dreams, becoming their partner and guide towards success. Through CC Swap's platform, entrepreneurs can utilize advanced blockchain technology to swiftly create and distribute their own tokens, without the need for cumbersome programming or compliance with regulations. This opens doors to innovation and wealth for entrepreneurs, enabling them to actualize their dreams with lower costs and higher efficiency.
CC Swap also strives to establish an open and fair blockchain ecosystem. It aims to be a BAAS platform, offering an abundance of tools and resources for partners, enabling them to construct their unique innovative trading models with low costs and high efficiency. This ecosystem, based on decentralized DAO communities, allows innovators to share in a trust-based, dynamic innovative trading model, together leading the tech tide of the WEB3.0 era.
CC Swap envisions co-constructing decentralized, trust-based and dynamic DAO communities, winning the WEB3.0 era led by cutting-edge blockchain technology. It will serve as the cradle for innovators to realize their dreams, infusing new vitality into the development of the blockchain field.
On CC Swap's platform, innovators can exchange and collaborate, collectively propelling the advancement of blockchain technology. They can conduct secure and efficient token trades through CC Swap's innovative trading model, accelerating the development and growth of projects. This platform provides innovators with a fair and open stage, where everyone has the opportunity to realize their dreams.
CC Swap's openness and transparency establish a trustworthy environment for users and partners. It employs advanced blockchain technology and smart contracts, ensuring the security and privacy of transactions. Moreover, CC Swap emphasizes community building, providing comprehensive support and assistance for users, enabling them to receive the highest quality of service and experience.
As the world's pioneering Blockchain as a Service (BAAS) platform for innovative trading models, CC Swap officially initiated alliance node recruitment on June 5th, beckoning innovators globally to join. Whether you're an innovator with entrepreneurial plans, or an explorer filled with curiosity about blockchain technology, CC Swap has opened a door to innovation and success for you. Join CC Swap, commence your voyage of innovation, and let us collectively author a magnificent chapter in the blockchain domain.
In this era ripe with innovation, let's harbor dreams and pursue the path of innovation. CC Swap will be your compass, guiding your journey of innovation, allowing your dreams to shimmer in the world of blockchain. Let's together witness the soaring of blockchain technology and jointly create a more radiant future!
Gmail:[email protected]
Twitter:https://twitter.com/CoinChainSwap
Medium:https://medium.com/cc-swap
TG:https://t.me/CoinChainSwapOfficial
Website:https://ccswap.cc/