Press Release
Bitfinder: The First Ever Crypto Search Engine Built Powered By Bitfinder Algorithm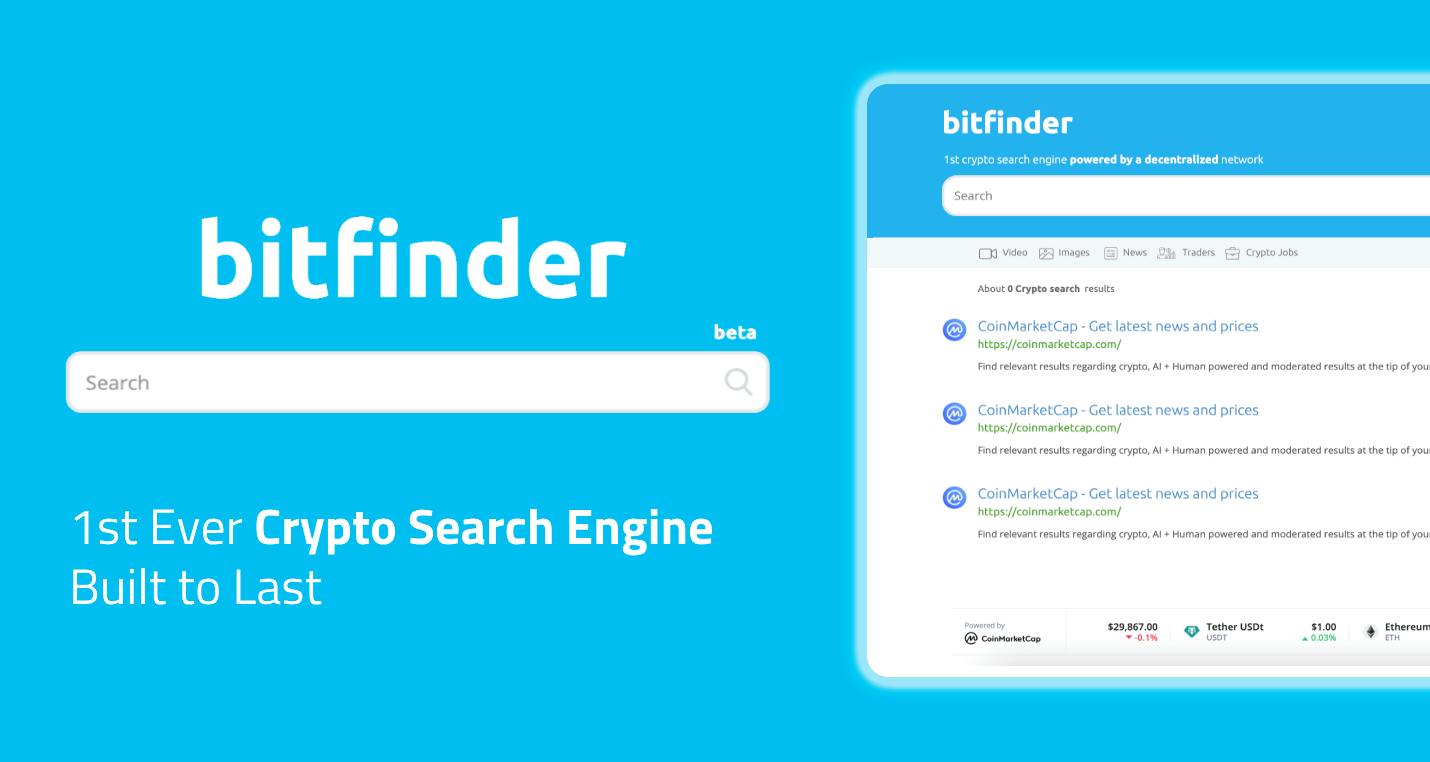 Bitfinder, will become a leading innovator in the world of blockchain technology, is thrilled to introduce Bitfinder, the first-ever crypto search engine that leverages its own groundbreaking algorithm. Bitfinder represents a significant milestone in the realm of cryptocurrency research and exploration, providing users with an unparalleled experience in discovering, analyzing, and navigating the vast crypto landscape.
The advent of blockchain technology has revolutionised the global financial landscape, offering a diverse range of cryptocurrencies and tokens. However, navigating this rapidly evolving market can often be daunting for enthusiasts, traders, and investors alike. That's where Bitfinder comes into play – a sophisticated, intuitive, and comprehensive search engine designed to empower users with precise and insightful information.
Unlike traditional search engines, Bitfinder's algorithm has been meticulously crafted by a small team of expert developers and cryptocurrency specialists. This proprietary technology enables Bitfinder to delve deep into the centralized & decentralized world of cryptocurrencies, allowing users to find the most relevant and accurate results, even in the ever-expanding and dynamic crypto sphere.
Key Features of Bitfinder:
1. Comprehensive Database: Bitfinder boasts a vast and up-to-date database of cryptocurrencies, tokens, and blockchain projects, providing users with comprehensive insights into the crypto market.
2. Advanced Filters: Our search engine comes equipped with advanced filtering options, allowing users to refine their search based on specific criteria, such as market cap, volume, token type, and more.
3. Real-time Data: Bitfinder constantly updates its data in real-time, ensuring that users have access to the latest market trends and crucial information, enabling more informed decision-making.
4. Analytical Tools: Gain valuable insights with our intuitive analytical tools, such as interactive price charts, historical data, and performance indicators, empowering users to make data-driven choices.
5. User-Friendly Interface: Bitfinder offers an easy-to-navigate interface, making it accessible to both beginners and seasoned cryptocurrency enthusiasts.
"At Bitfinder we are passionate about blockchain technology and its potential to revolutionize the world of finance. With Bitfinder, our aim is to simplify the crypto exploration process and provide users with a powerful tool to navigate this dynamic industry," said Ibrahim Nawaz, Founder, and CEO of Bitfinder.io. "Our team has worked tirelessly to develop a proprietary algorithm that ensures Bitfinder delivers accurate and relevant results, ultimately helping users make well-informed decisions."
As part of our commitment to continuous improvement, Bitfinder will receive regular updates, including the integration of new cryptocurrencies and enhanced features based on user feedback.
Bitfinder ECO System
SEARCH ENGINE
Bitfinder Search Engine is a cutting-edge platform designed to help crypto projects expose there business
ADVERTISERS
Advertising tools and services designed for cryptocurrency-related businesses and projects
PUBLISHERS
Increased Revenue: Earn more income by displaying ads on your platform.
GAMING
In-house collection of online games that offer users an enjoyable experience while also providing the opportunity to earn cryptocurrency.
PAID TO CLICK
Earn money by clicking on ads displayed on our platform. Start generating income with just a simple click.
BITEXCHANGE
Planned service is a robust tool designed to provide a secure, user-friendly, and efficient platform for exchanging cryptocurrencies
To experience the next-generation crypto search engine, visit https://bitfinder.io and join the rapidly growing Bitfinder community.
About Bitfinder
Bitfinder is a cutting-edge technology company at the forefront of blockchain innovation. With a mission to promote and advance the adoption of blockchain solutions, our team of experts is committed to creating revolutionary products that empower individuals and businesses globally.
The project started as a simple concept, but as the crypto market continued to grow and evolve, our founders recognized the need for a dedicated search platform that could cater to the unique requirements of the cryptocurrency community. It wasn't until they developed a powerful algorithm and an advanced robot crawler that the dream of BitFinder truly came to life.
Driven by a shared vision and an unwavering commitment to innovation, our founders have been working tirelessly to refine and expand BitFinder's capabilities. Their dedication has resulted in a user-friendly, secure, and efficient search engine that empowers users to access the most relevant crypto news, market analysis, and insights.
As a UK-based startup, we are incredibly proud of our humble beginnings and are committed to staying true to our roots. Our success thus far has been a testament to the hard work of our founders, but we also recognize the invaluable support of our growing community. Your trust and loyalty motivate us to continue improving and enhancing our services.
At BitFinder, we have ambitious plans for the future, and with the support of our community, we are confident that we can take our crypto search engine to new heights. We remain dedicated to staying at the forefront of the crypto industry, adapting to its ever-changing landscape, and providing our users with the most up-to-date and reliable information.
Join us on this exciting journey, and we look forward to serving the cryptocurrency community for years to come.
The BitFinder Team
For media or other  inquiries, please contact:
Founder: CEO Ibrahim Nawaz
Email: [email protected]
Linkedin: https://www.linkedin.com/in/ibrahimnawaz/
Weblink: https://bitfinder.io